Demystifying DBA
Over the past few years, IBM has consolidated several products to form one comprehensive Digital Business Automation (DBA) platform. As a child of the 90's, it reminds me of when the Power Rangers joined forces to become "Megazord". Often referred to as "greater than the sum of its parts," this is not exactly true, as many of the contained offerings have functional overlap. A better takeaway from the platform push is that it alleviates the pressure to get the most out of any one product, which has historically led to bastardized solutions. This is extremely good news.
If you are a prospective or current user of the IBM Automation Platform for Digital Business (a common rearrangement of DBA), you have probably been hearing a lot of three letter acronyms like BAW, ODM, DPA, ECM, RPA, BPM, ICM, and you may be thinking WTF?
WTF = Why the frustration?
I am here to help demystify the DBA platform.
Let's rewind the clock.
Enter DPA.
Three Letter Acronym #1:
DPA = Digital Process Automation
DPA was the first run at consolidation. DPA includes BAW, ODM and (depending on who you're talking to) RPA. Fear not, all acronyms will be explained.
You may be keen to the fact that "process" is a more specific term than "business." You may also be wondering if that means that DPA is more specific than DBA…
You'll find out soon enough.
First, let's bust some more acronyms…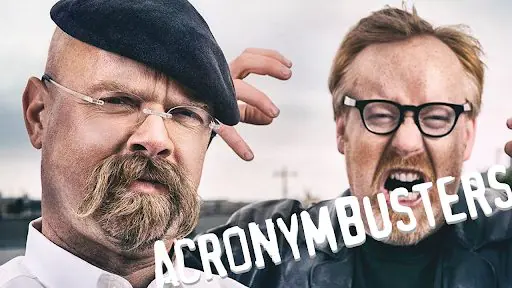 Three Letter Acronym #2:
BAW = Business Automation Workflow
BAW is a tool used to model, automate, change, monitor and optimize core business processes to improve consistency across tasks and processes, increase productivity and straight-through processing.
BAW = BPM + ICM
BAW is the combination of Business Process Manager (BPM) and IBM Case Manager (ICM). Historically, BPM handled predictable, structured processes performed by clerical workers; whereas, ICM handled unpredictable, unstructured processes performed by knowledge workers. What we've learned from these products being partitioned is that they should not be partitioned. There is too much fluidity between structured and unstructured processes.
Three Letter Acronym #3:
ODM = Operational Decision Management
ODM is a tool used to capture, automate and manage business rules to encourage rapid adaptation to change, increase the consistency and auditability of decisions, and detect problem situations in real time.
This tool allows us to execute very sophisticated rule sets very quickly. Can you imagine trying to calculate airfare by hand with all the variables at play (distance, demand, time of the day, day of the week, season of the year, historical data, etc…)? Me neither. By the time you had an answer, it would already be irrelevant as so many of the aforementioned variables would have changed.
Three Letter Acronym #4:
RPA = Robotic Process Automation
RPA is a tool used to record and automate repetitive human tasks to automate mundane work, eliminate copy-and-paste and data entry errors, and free employee time to do higher-value work.
In essence, RPA emulates a human's interactions with their operating system – The Phantom of the Opera…ting system. I'm sure I could come up with additional ghost-themed metaphors, but I'll spare you for now.
This is the only tool on the platform that IBM has not acquired. IBM has a strong relationship with Automation Anywhere however, and Automation Anywhere plays very nice with its siblings in the DBA family.
And there you have it:
DPA = BAW + ODM + RPA.
So, we're done? Not quite.
Enter ECM.
Three Letter Acronym #5:
ECM = Enterprise Content Management
ECM is a suite of tools used to provide highly secure and compliant management of most types of content, support instant access to content, connect content to digital business applications and help manage governance and compliance.
This suite contains several products including IBM FileNet, IBM Content Manager, IBM Content Collector, IBM Enterprise Records, IBM Content Classification and IBM Watson Explorer. All these products deal with content in some form or fashion.
Data Capture, non-acronymic, is another component which sits inside the DBA portfolio. Although it sits outside the ECM umbrella, it is tightly coupled – ingesting documents with ECM being the final destination.
The reality is that a lot of operations revolve around content (i.e. a document comes in and someone must process it, or a client requests a document that has to then be located or generated, etc…), thus ECM was included in the platform.
The problem is that DPA + ECM ≠ DPA
Enter DBA.
Three Letter Acronym #6:
DBA = Digital Business Automation
Let's review the math.
DPA = BAW + ODM + RPA
DBA = DPA + ECM
Thus…
DBA = BAW + ODM + RPA + ECM
There are a few other offerings as well, but these are the four "pillars" of the IBM Digital Business Automation platform.
To add one additional layer of complexity, these acronymized pillars also have what I refer to as "street names". Here's a terminology conversion table to help make this all make sense:
Now the following graphic should make more sense. You'll notice the four pillars with operational intelligence, machine learning, governance and a variety of deployment options underneath. Data Capture sits across the pillars as a means of ingesting documents. And across the entire platform exists a unified user interface – Navigator.
Here's a full conversion chart for your reference. This includes a few products and competencies not discussed in this article, so expect more on these at a future date.
What it means is that you shouldn't have to decide whether you need ODM more than BAW, or RPA more than ECM, or if RPA can work in lieu of BAW. The truth is that you need it all, and it depends on which aspect of your operations you are automating as to which product you use at that point in time.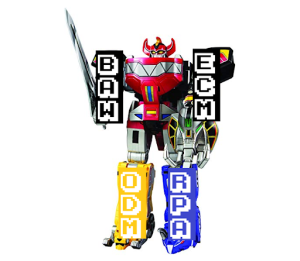 To return to my world-class Power Ranger analogy from the introductory paragraph, you shouldn't have to decide if you are going to use Megazord's arms or legs, nor should you have to figure out how to make an arm act as a leg in certain situations. DBA is fully equipped with both "arms and legs," so you can pick things up without compromising the speed at which you run.
With the IBM Digital Business Automation platform, you can automate all of your operations without compromise…
You just have to learn a few acronyms first.