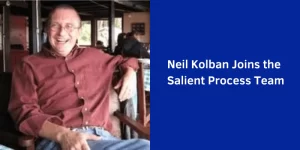 The Salient Process team is thrilled to announce Neil Kolban has joined our Innovation team! He'll be working alongside our Chief Innovator, Eric Ducos, to create the next big thing from Salient Process and improve all the other great products we already have in our portfolio!
Prior to joining Salient Process, Neil was a well known advocate and technical specialist for IBM's Process Transformation products.  During his tenure with IBM for nearly 30 years, he became renowned for his knowledge, practical expertise and ability to disseminate usable information on IBM offerings.  This included the authoring of many books, videos and technical assets.  Neil's passion for consuming raw technical information and translating it into consumable and practical artifacts makes him a perfect addition to the Salient Process team.
Neil has an honors degree in computer science from the University of Glasgow, Scotland.  When not thinking about business process and decisions, you will find him spending his time tinkering with embedded software in micro electronics (IoT), fishing, practicing yoga and playing the latest version of the Battlefield computer games.  Neil lives in Texas.