What's New in Automation Compass? June 2023
Published By : Cydney McCollum
August 3, 2023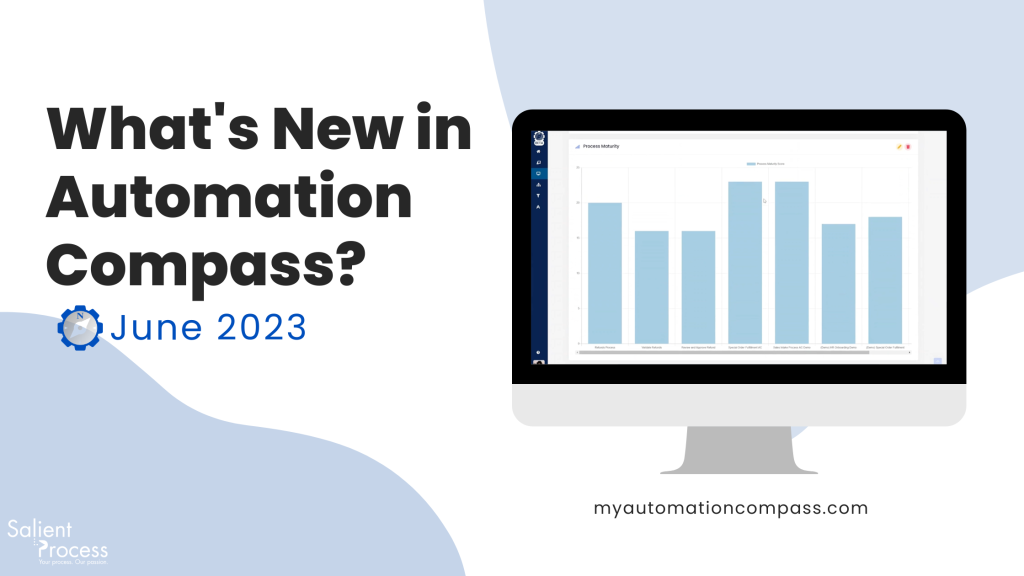 We are excited to announce the latest version of Automation Compass, packed with exciting new features, improvements, and bug fixes to enhance your experience and boost your productivity. Let's dive in and see what's new!
Learn more about Automation Compass.
🚀What's New?
1. Customizable Maturity Assessment
Now, you have the power to tailor the maturity assessment of your processes to suit your unique requirements. Customize the metrics and scales used to measure maturity, allowing you to gain more accurate insights into your processes' performance.
2. Process Maturity Widget
Effortlessly compare the maturity levels of your processes with our new Process Maturity Widget, conveniently accessible from your dashboard. Make informed decisions and prioritize improvements based on a comprehensive view of your process maturity.
3. Capability Icons Information
Easily visualize which capabilities have processes, opportunities, or goals attached, all in a single view. This feature streamlines reporting and decision-making, enabling you to focus on what matters most.
4. Bulk Import Blueprints from BWL
Importing your blueprints from BWL is now quicker and more efficient. Save time by importing multiple blueprints in one go, accelerating your process setup
5. Selective Snapshot Import
When importing from BWL, choose which snapshots of your process you want to include in your current version. Other snapshots will be available as scenarios for simulations, providing you with greater flexibility in managing your process data.
🔧Bug Fixes
Optimized Process Visualization: Visualizing processes across the application will now default to the optimal size that fits your screen. You can still zoom in or out to view details as needed, providing a smoother and more user-friendly experience.
Simulation Enhancements: We've made significant improvements to our simulations, ensuring a seamless and delightful experience while using the tool. Enjoy a more refined and efficient simulation process.
⭐Improvements
Personalized User Experience: Your name now appears at the top of the screen, giving your experience a more personal touch every time you log in.
Refresh Process from BWL: Stay up-to-date with the latest changes in your processes from BWL. With a simple click, update your existing processes without the need to decouple and link new processes manually.
Filter Opportunities in Planned vs. Actual Benefit Widget: Filter opportunities by pipeline or capability in the Planned vs. Actual Benefit Widget. This enhancement allows you to focus on specific segments of your data, making analysis and planning more precise.
Version-linked Opportunities: Opportunities are now linked to the specific version of a process. If any changes are made to the process in the future, you will receive a warning about the potential impact on related opportunities. This proactive approach helps you make informed decisions regarding the relevance of opportunities.
🔜Coming Soon
We're constantly working on exciting new features to enhance your Automation Compass experience. We have a lot of exciting news coming very soon and we can't wait to share with you all! Thank you for your continued support and stay tuned for more updates to come!
Request a Free Trial With Automation Compass Today
If you're interested in learning more, you can request a free trial or a demo from an expert advisor. If you're eager to get started, you can book a meeting here. Don't miss out on this opportunity, inquire for more information today.
RELATED CONTENT
---
More on Hyperautomation
Scaling Beyond RPA to Hyperautomation