Business Compass Release Notes: October 2023
Published By : Cydney McCollum
November 20, 2023
Greetings, Business Compass Navigators! 🌟 Welcome to the spooktacular October edition, where we've conjured up a potion of features, improvements, and bug fixes to elevate your business journey. Let's embark on this magical adventure:
Don't forget to Subscribe to Our Newsletter
🚀New Features
Process Mining Integration: Uncover the Mysteries in Your Data!
Dive into the secrets hidden in your data with our enchanting Process Mining Integration. Import processes, complete with work and wait time data, and explore a world of analysis in Business Compass. Opportunities for improvement await your discovery!
Link your Process Mining Account
Head to your Business Compass settings.
Navigate to the Integration section.
Click on Process Mining.
Follow the magical prompts to link your Process Mining account.
Import from Process Mining
Once linked, go to the Import section.
Select Process Mining as the source.
Choose the process you want to import.
Witness the transformation as your process and data seamlessly integrate into Business Compass.
⭐Improvements
New Landing Page – www.mybusinesscompass.com!
🌟 Ultimate Choice Reasons: Discover the key features that set Business Compass apart in business transformation. From streamlined processes to unparalleled insights, we've got the tools to fuel your success.
🎤 Testimonial from a Special Client: Read real success stories from our clients, sharing their transformative journey with Business Compass. Because your success is our story.
🌐 Companies that Trust Us: Explore the impressive lineup of companies that trust Business Compass for their journey to success. Your compass, trusted by startups to enterprises.
Embrace the Green-Red Spectrum
Colors for the simulation and efficiency heatmap have transitioned to a dynamic green-red scale. Now, low cost, low time, or low efficiency are elegantly represented by these colors, offering crystal-clear interpretation at a glance.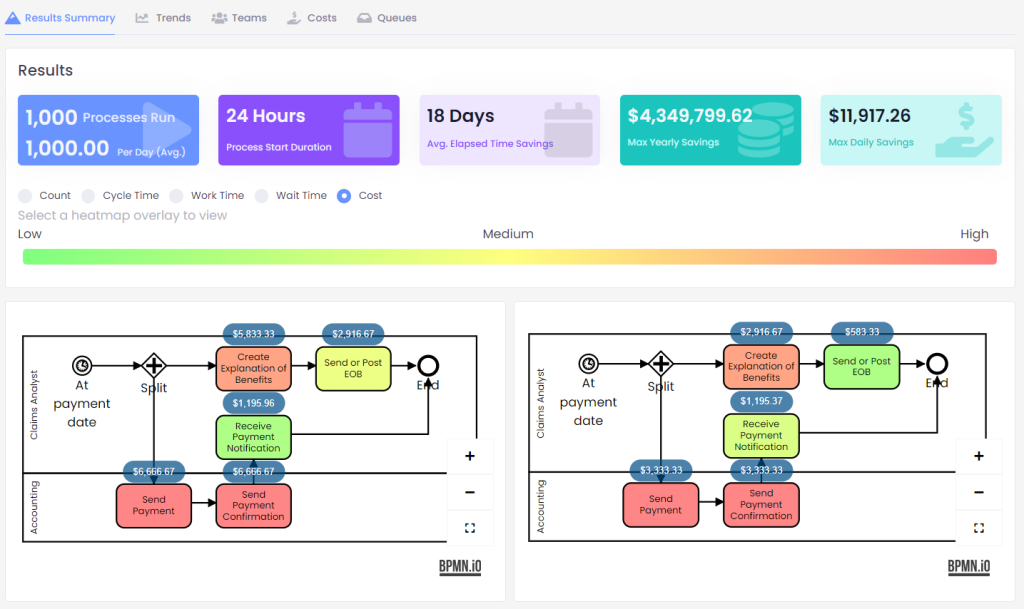 🔧🐞Bug Fixes
Actual Benefit Update: No More "0" Curses!
🐞 Issue: Actual benefits not updating in the opportunity table?
🛠️ Resolution: Fear not! We've put on our wizard hats and cast a spell to fix this issue. Follow the magic steps in the Monitor tab, and bid farewell to the "0" curse haunting your opportunities.
Issues Importing from Blueworks Live (BWL): Link Information Stay Put!
🐞 Issue: Link information disappearing after linking the BWL account?
🛠️ Resolution: We've worked our magic to fix this bug! Your BWL link information now stays put, ensuring a seamless connection with Business Compass.
Sidebar on Its Best Behavior: No More Glitches!
🐞 Issue: Is the sidebar glitching?
🛠️ Resolution: No more weird glitches when clicking on the Process menu. The user's name won't play hide-and-seek anymore.
🔜Coming Soon
Exciting developments lie ahead for Business Compass! Here's a glimpse of what's in store:
🤖 BPMN.io Editor Integration: Edit Templates with Ease! Edit templates within Business Compass for the ultimate convenience using the BPMN.io editor. Streamline your processes effortlessly!
🤖 Automated Process Details Population: Magic in the Details! When you link a process to a capability or an opportunity, details like systems and process owners will magically populate into the other element's details. Say hello to saved time, ensuring data consistency, and impeccable accuracy across elements.
RELATED CONTENT
---
More on Hyperautomation
Scaling Beyond RPA to Hyperautomation