In this episode, host Jimmy A. Hewitt had the opportunity to chat with Ben Mandelstein, Watson Orchestrate Worldwide Sales Leader at IBM!
Join us for this week's episode as we delve into the fascinating world of Watson Orchestrate. Discover the origins of this groundbreaking technology, explore the concept of #DigitalLabor and Generative #AI from a business perspective, and uncover how Watson is revolutionizing IBM's HR department and so much more. We'll also explore how Watson can empower companies worldwide to enhance their everyday operations.
Follow along with the episode now!
Guest: Ben Mandelstein, Watson Orchestrate Worldwide Sales Leader at IBM!
 

Background

7 years at IBM

Started in IBM's connects acquisition around HR technology. IBM wanted to infuse AI into HR technology.

2nd role: Worldwide Program Manager for IBMs Platform Brand

3rd role: 2 years ago, Mandelstein created the start up for Watson Orchestrate inside IBM, working alongside the product management team and leading go-to-market efforts. 

Is currently the Watson Orchestrate Worldwide Sales Leader 
What does Digital Labor and Generative AI mean from a Business and Technology Perspective?
From a Business Perspective…
Everyone is being asked to be more productive, while everyone still has a lot of tedious manual work, everyone is trying to get the most out of their day. There has been a massive shortage of the skills people have for the types of roles they are put in and this conversation sparked during covid with the great resignation. 
The thought was once Covid-19 was over, things would go back to normal and companies would be able to acquire employees with the appropriate talent and skills. Mandelstein said based on research he has been seeing, this is estimated to get worse. 
The opportunity here is to utilize Digital Labor to help workers and companies fulfill the need for productivity. We have seen RPA bots and Chatbots. 
From an RPA perspective, it is designed to handle one task and excel in this area but there often is more nuance than this in roles. There does need to be more human-like interactions and accommodate the different variants within these tasks. Sometimes, RPA doesn't fit all of the use cases.
From a Technology Perspective…
From a Chatbot perspective, they are built to answer questions. IBM uses them in their HR department. But that's all it does, it answers the question and it might not actually help you get something done. 
Talking to Watson in Natural Language: Started as a research concept but the idea is to actually help you get work done. IBM's COR presented it during the research phase. 
What they are discovering is that with Generative AI, a lot of business users who are not technical or tech savvy, are really interested in AI and Automation more than ever thanks to ChatGPT.

It got people thinking in a creative way how they can apply Generative models and automation technology to solve business problems.  

With Digital Labor, one of the major ways IBM is using Foundation Models (to build Watson Orchestrate) is to actually sequence the micro-automations together (or the steps within a process) to where it can handle more complex tasks. The difference here is instead of having RPA that has programable steps A-Z, you can have an RPA step and you can have an API column. The sequencing AI can sequence these together in a conversational experience. 

To the end-user, it can a look and feel like magic.
Elaborate on Explainability, why is that important? How does Watson Orchestrate accomplish explainability?
IBM's Foundational Goals
IBM is very big on explaining to their users how all of the different technologies work so that yes, it may feel like magic but the technological aspect is explained to the client and that they understand how the digital labor bot itself is learning your work patterns and how it can make better recommendations on what task you should do next. 
What does explainability mean?
Explainability is explaining how the AI came up with the answer.
For example: With ChatGPT, you can ask it to do something for you, but you can't see why it chooses certain analogies, words, phrases or specific sequences.
For IBM, they are big on the causal AI. They want their users to know how the AI came up with the answer it did and the level of confidence it has in providing this answer. IBM has been doing this for years.
Example: Watson beat Jeopardy. Behind the scenes, there is a topic and you have to figure out what the question is and you have to have a certain level of confidence to know what the correct question was. Having explainable AI is so important. See how Watson won Jeopardy!
Watson X has the ability to work with a company to create their own large language model. 
IBM Announced Partnership with Huggingface, and Mandelstein read an article that Huggingface has

100,000 large language models. ChatGPT is good at starting the conversation but it's only one model.
Something that IBM is working on is working with companies is to determine what's the right data set to train the model, how big does the model need to be? There are all the factors that determine the accuracy and explainability when running these models into different business cases.
What are the key capabilities and components within Watson Orchestrate?
Within Watson Orchestrate
Agnostic RPA approach, where if a company has RPA already they can use it and if you don't, you can use IBM RPA to get started with

API Connections with App Connect (IBM's IPaaS solution) with 130 pre-built connectors to common business applications but specifically anything with Open API they can connect to and turn it into an automation within Orchestrate which IBM refers to this as a "Skill"

Robotic Process Automation is very useful for various lines of businesses and solving problems where companies may not have a good AI in place. RPA is commonly deployed within businesses. 
Are API connections a skill? Define a Skill
In a traditional sense, not necessarily. When Watson becomes your digital assistant and helps you get work done, you need to be able to teach your assistant how to do things for you and it needs to be able to work in the different applications that you work in.
If you are in HR, it could be Workday, Salesforce, your ERP systems, etc. There's different tools but the ability to talk to Watson and have Waston go and do something for you, inside one of these systems, is a skill.
How does that work?
This can be done through an API, or RPA, or other tools such as IBM Workflow and other automation tools. Anything with an API, they can turn it into a skill where Watson is able to help you. 
Are there "out-of-the-box" skills?
The strategy with Watson is to have a catalog  of out of the box skills and implemented pre-built skills. They have already started using Watson in IBM's HR department but they are expanding into areas like procurement, finance, pre-built sales and tech roles, personal productivity and for business partners.
The idea is to have business partners who know they could help their clients in specific ways through automation and using Watson to help with these scenarios. 

Clients that have purchased Watson have been able to get set up and access the catalog of pre-built skills within one day. 
What about building incremental custom skills, and skills unique to specific clients?
Whenever clients realize that the out-of-the-box skills and tools they use are just a system of record, they begin to see the value and potential of using Watson as an innovation and automation platform that can scale across each of their different lines of business and integrate with the tools they use today. 
Where there's bottlenecks and inefficiencies, [Watson] Orchestrate can really help provide value and instantly be plugged into businesses processes." – Ben Mandelstein
Hypothetical Use Case
Medium to Large Company, 50-100 RPA bots in production, How does skill development with Watson Orchestrate either compete or compliment the pre-existing RPA bot backlog?
Ideally, where they used RPA before, might make them think about approaches where a mixture of RPA and or call it an API and have a more reliable process that may not break or need as much maintenance. Mixing RPA and API could make some interesting things happen.
A question for Automation COE's: "Where are some of the bots that aren't being used as much as you thought they would" 
With Watson, we can change the way an end user can interact with that bot and make it more discoverable. In HR, people may not be thinking of leveraging a bot or know how to use it or what it can do. But Watson can learn your bots functionality and job and it can make it more efficient.  
IBM Use Cases
HeRo
Promotion Process happens four times/yr, 14 HR Business Partners working with 2,000 hiring managers just within IBM consulting. They were using multiple systems and tools to extract data to decipher who was eligible for a promotion based on their written criterial, what their salary would be given to them, etc. This took 10 weeks to accomplish.
Watson was built to be a "HeRo" that talks to the manager in a conversational experience, tells them who on the team is eligible and what their salary range would be. Then the manager goes to make all of the final decisions on their own based on the data Watson provided for them. 
It's not just about automating something, it's about freeing someone up to do more high- value work and making them enjoy their job and celebrating innovation, celebrating things where you are actually driving business impact not just completing your busy work" – Ben Mandelstein
sHeRlock
IBMer took a client out to dinner and forgot to unselect his Per Diem and Sherlock (sHeRlock), IBM's expense investigator notified the boss and corrected the expense. It will also educate the employee on how to prevent errors like that moving forward.
What is the difference between a skill and use case?
HeRo and sHeRlock are digital employees that have a set of skills to be able to assist a process. Use Case is similar because it would also have multiple sets of skills but IBM has seen clients that might have one digital labor that can tackle lots of different use cases
How technology can help neurodivergent people
Ben Mandelstein opens up about how he is neurodivergent and has dysgraphia and used his laptop to write papers and that was his "digital assistant" throughout school. 
Technology can help people with ADHD and setting reminders for tasks and triggers for those reminders. Watson Orchestrate is not just about a business process but it can be more personal and it can be about helping yourself. Watsons sequencing AI is looking at your personal log of your usage of Orchestrate and is actually learning and making recommendations based on you and your data. 
Ben Mandelstein asking Host Jimmy Hewitt a Question
"How do you see Salient Process helping clients bring their ideas, skills, or automations to life for Watson Orchestrate?"
"Salient is one of our [IBM's] best partners when it comes to actually building customs skills and custom bots." Ben Mandelstein
Salient Process is very excited to get into the market using Watson Orchestrate which we have started already but we want to build skills and help our clients be successful and if there's non-proprietary elements of these skills that can be captured and made available to others in the marketplace, we are apart of that conversation. 
We contribute to open source communities and forums already (APQQC and IPQC) so why not contribute to the growing ecosystem of digital labor skills! 
Where do you see Watson Orchestrate heading in the future?
IBM built Watson X which is helping companies build their own large language models. These large language models can be used for different parts of your business, to build small models within these large models for different use cases.
From an IT perspective, you need to set governance for which model you use. Where Watson X and Watson Orchestrate come together is Watson Orchestrate is the application that the end users interact with and physically use.. but then you can have custom large language models inside of Orchestrate with the governance and compliance that large enterprise clients will need.
What solutions are in place for Watson when it comes to the topic of concerns around AI?
Companies are most concerned with is who is responsible for the outcome. The client? The company? With internal processes, people are willing to take the risks with using AI because they have seen and heard the successes with having AI tools implemented, but with external processes this is where we see hesitation.
With Watson, using Generative AI out of the box, is sequencing automations. The concept is recommending the person the next step, but the human is actually doing the task. The human can use their own critical thinking when it comes with following through on a process or task. There is always a human in the loop when using Watson Orchestrate and feel it is a safe technology.
Watch Episode 25 Now 
Have a Topic Idea? Let Us Know
If you have a topic idea, contact us today. We want our podcast to answer your questions, and if you have something that you want to hear, we would love to know. In addition, you can ask questions and get in touch with our Salient Process team.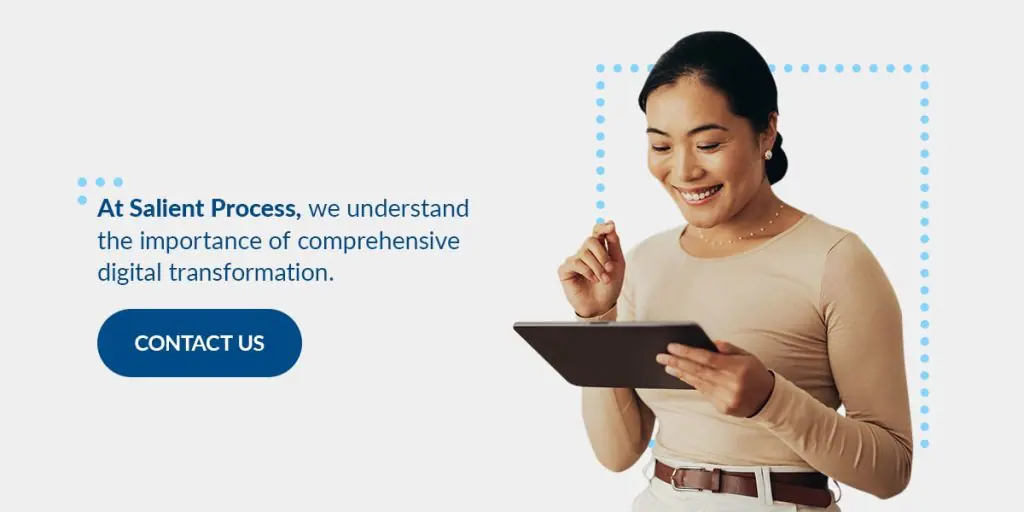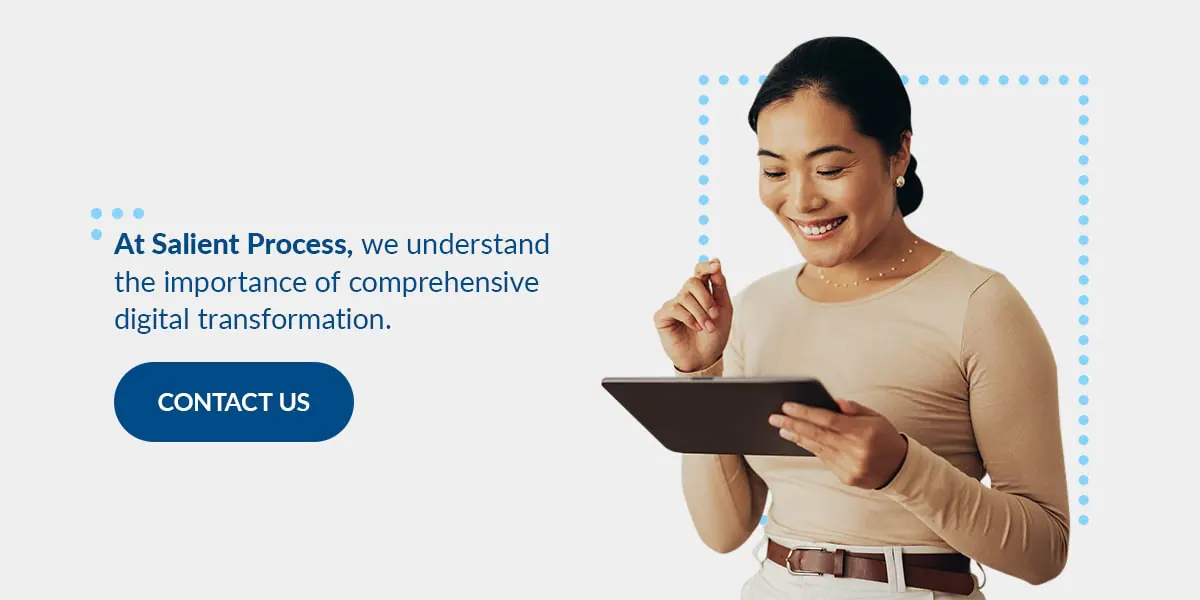 Why Salient
At Salient Process, we understand the importance of comprehensive digital transformation. We work closely with each client and use a North Star methodology to align your procedures with overall business goals. Our expert team works hard to understand your unique needs, making a customized plan for success. With our Hyperautomation solutions, you can move closer to your digital transformation goals.
Subscribe now
👉Subscribe to Bots & Thoughts: The Hyperautomation Podcast Here
👉Subscribe to our Spotify Here
👉Subscribe to our Apple Podcast Here
👉Subscribe to our Google Podcast Here
⏩Subscribe to Salient's Monthly Newsletter Here 
🎤Be our next guest! Sign up Here
📲Contact our Podcast Host Here 
Follow Us
  ⏩LinkedIn
👉 Follow Bots & Thoughts on Here
👉 Follow Salient Process Here
👉 Follow our Podcast Host Here
RELATED CONTENT