Follow along with the episode now!
Guest: Nikita Surya, Senior Manager of Strategy Ops at Uber
Background and Entry into Process Transformation
 

Nikita's Background:

  Grew up in Bombay, India. Moved to New York City at 26.

 Pursued multiple degrees at Columbia. 

 First master's degree in chemical engineering

Second master's degree in operations research with a focus on machine learning at Columbia University.
Nikita's educational journey began with a degree in chemical engineering, a passion fueled by a love for science, physics, and math. Over the years, she realized the importance of merging technical skills with business acumen, leading them to pursue a master's in finance and eventually landing them in the field of operations research and machine learning.
Transition from Chemical Engineering to Strategy Ops
The transition from chemical engineering to strategy ops involved a journey through consulting. She reflects on their time in consulting, specifically at Ernst & Young, where they focused on operational risk within the financial sector. This experience laid the groundwork for their passion for data and analytics, setting the stage for their move to Columbia for a master's degree in demand and supply analytics, predictive modeling, and more.
The guest's professional journey includes stints at Adidas, where they worked on supply chain optimization, and S.J. Lauderdale, where they focused on strategic finance and business transformation. The diverse experiences equipped them with a broad skill set, setting the stage for their current role at Uber.
Last Mile Delivery and Strategy Ops
The conversation shifts to the guest's day-to-day responsibilities as a Senior Manager of Strategy Ops at Uber. The host inquires about the team structure, its composition, and the skill sets within. Nikita explains that Uber Direct, their line of business, focuses on last-mile delivery, with the guest specifically overseeing reliability and risk. The team comprises data and strategy analysts, all equipped with a tech background and adept at handling complex data using SQL.
Nikit'as take on process management.
Nikita explains how Uber, being in a transformative space, prioritizes innovation and experimentation over adhering to established processes. The team's approach involves constant testing and learning rather than relying on a set process. This highlights Uber's commitment to staying innovative and adapting to the rapidly evolving industry.
Uber's Last Mile Delivery Model
Uber's last-mile delivery model focuses on the cost structure and the integration with merchants. She elaborates on the team's role in ensuring reliability and managing the end-to-end delivery process. She also sheds light on the contractual pricing with merchants and the absence of surge pricing in this specific delivery option, emphasizing the premium and convenience aspects of the service.
Prioritizing Projects and "Big Rocks"
Prioritizing Projects
Uber uses the concept of "Big Rocks" when prioritizing ongoing projects. Nikita emphasizes ruthless prioritization, aligning projects with business impact, and using scorecards to assess progress. The team's focus on strategic, long-term projects and monthly or bi-monthly shorter-term projects demonstrates their dedication to adapting to the ever-changing needs of the business.
 A Spotlight on Delivery Accuracy
Nikita begins to share a compelling project that has consumed the last eight months of their professional life – "Defectory." This project revolves around ensuring the accuracy of deliveries, particularly addressing issues related to missing items or fraudulent deliveries. The guest emphasizes the significance of combating fraud in the gig economy, where drivers and couriers are partners rather than full-time employees.
The Importance of Completeness
Delivery Process Case Study
Before delving into analysis and resolutions, Jimmy starts by emphasizing the importance of defining the problem. He draws attention to the critical aspects of completeness and timeliness in problem-solving. Jimmy recounts an instance where the problem of incomplete deliveries became evident, leading to financial repercussions for Uber.
The Challenge: The challenge was identified as an increase in refunds and a negative impact on the profit and loss statement due to incomplete deliveries and theft. Completeness and theft emerged as a major concern, especially in a business with high-value items like Apple products. This led the Uber team to dive into the stages of the delivery process. 
The Investigation and Analysis: the team divided the process into distinct stages and involved various stakeholders to analyze and evaluate each phase. The investigation covered three main legs of delivery: pickup, transit, and drop-off, involving multiple stakeholders such as the product team, account managers, support agents, and legal teams.
The Findings and Solution: The pivotal moment occurred during a visit to an Apple store, where Nikita observed the lack of security measures for pick-up items. This discovery prompted collaboration with Apple's logistics team to address a critical gap in the process. The uber team shared the findings with Apple's logistics team, fostering shared ownership and leading to improvements in packaging and security measures.
Relationships with IT
Nikita discusses the close relationship between her team and the IT department at Uber. Unlike previous experiences, the team at Uber has access to the necessary data, allowing for more efficient problem-solving. The collaborative relationship with IT empowers the team with data access, ETL capabilities, and automation tools.
Recommendations for Continuous Improvement Professionals:
Nikita suggests that continuous improvement professionals invest in understanding the latest data tools. Additionally, she emphasizes the importance of being receptive to change and adapting to new technologies.
Skill Set Recommendation: Continuous improvement professionals should focus on enhancing their data analysis skills to adapt to the evolving landscape.

Mindset Recommendation: Being receptive to change, staying nimble, and considering different perspectives are crucial in a rapidly changing business environment.
Want to be on the show? Let Us Know
If you have a topic idea, contact us today. We want our podcast to answer your questions, and if you have something that you want to hear, we would love to know. In addition, you can ask questions and get in touch with our Salient Process team.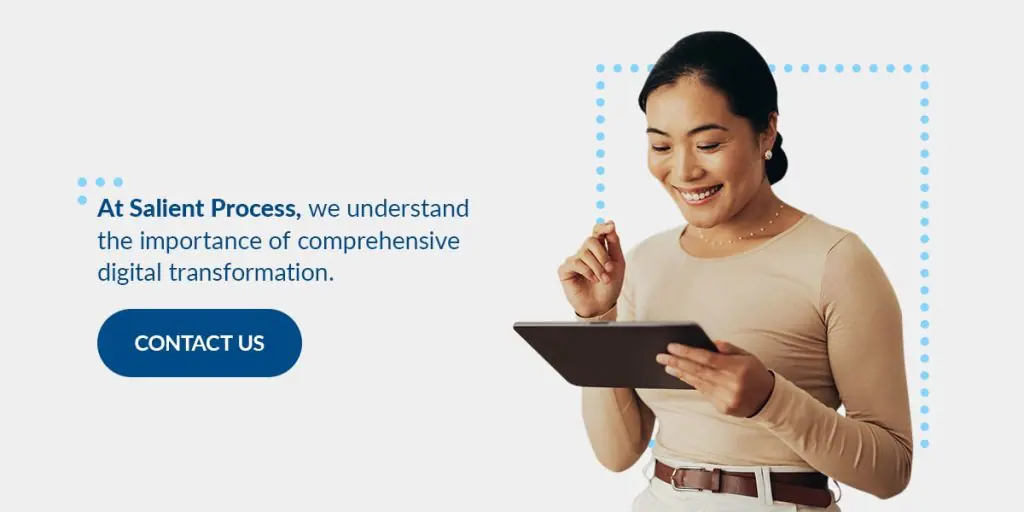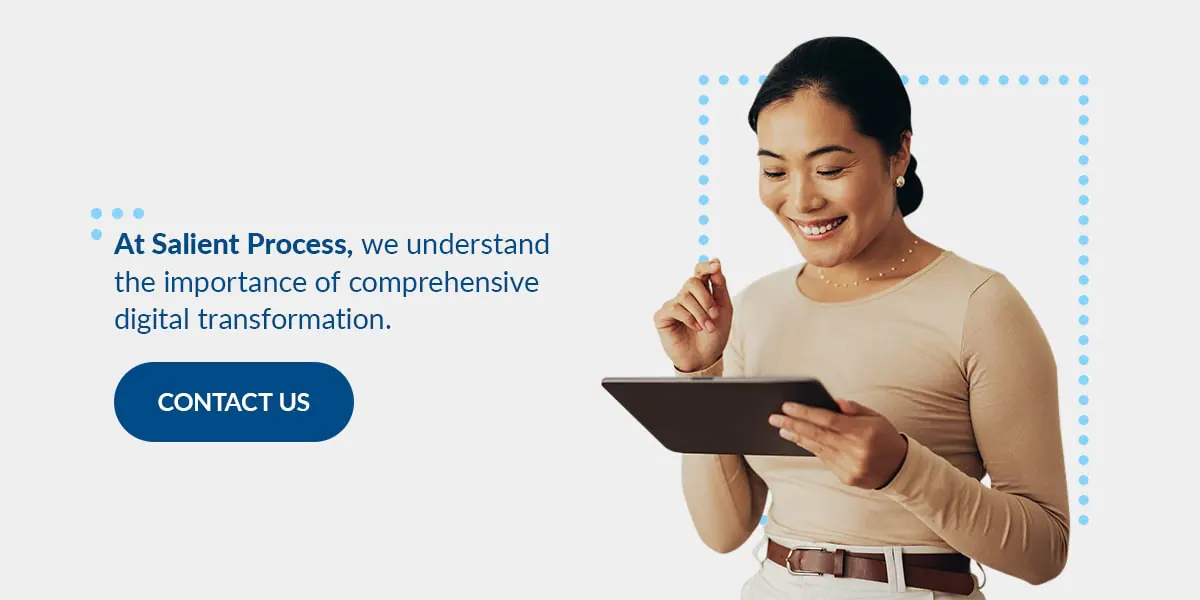 Why Salient
At Salient Process, we understand the importance of comprehensive digital transformation. We work closely with each client and use a North Star methodology to align your procedures with overall business goals. Our expert team works hard to understand your unique needs, making a customized plan for success. With our Hyperautomation solutions, you can move closer to your digital transformation goals.
Subscribe now
👉Subscribe to Bots & Thoughts: The Hyperautomation Podcast Here
👉Subscribe to our Spotify Here
👉Subscribe to our Apple Podcast Here
👉Subscribe to our Google Podcast Here
⏩Subscribe to Salient's Monthly Newsletter Here 
🎤Be our next guest! Sign up Here
📲Contact our Podcast Host Here 
Follow Us
  ⏩LinkedIn
👉 Follow Bots & Thoughts on Here
👉 Follow Salient Process Here
👉 Follow our Podcast Host Here
RELATED CONTENT