What Is ODM? Examples of ODM
Published By : Jimmy Hewitt
February 14, 2023
Every day, businesses face decisions. These decisions can be small and menial, or they can be enterprise-changing. Regardless of the scale of the business decision, you want to ensure you're making the right decisions for your company.
A good business decision is one that properly responds to the market and predicts the proper course of action for a successful outcome. This may seem easier said than done, but with the right software, you can achieve new levels of success in your business decision. Discover how IBM Operational Decision Manager (ODM) can change your business processes for the better and see if it's right for your company.
What Is ODM?
ODM stands for "Operational Decision Management". It is software from International Business Machines Corporation (IBM) that combines change detection and decision-making tools for a business rule management system that is easy to test, audit, trace and evolve. With ODM, you can discover and make decisions on event-related data patterns. Then, you can process this information against business rules to determine how to respond.
To better understand ODM, here are definitions for the two main terms that ODM deals with — rules and events:
Rules: Business rules are statements of logic that a business uses to make a decision. The statement of logic is usually part of some aspect of a specific business policy. ODM software processes business rules to make real-time decisions.
Events: Business events are signals that a change in state has occurred. The event consists of a small message informing the user of this change in state. ODM event processing uses events to determine if an action or actions need to be taken as a result of the change, informing decision-making.
With those definitions in mind, here are two main components of IBM ODM software:
Decision Server: The Decision Server gives the development and runtime components needed to automate responses to variable decisions according to the context of a process, interaction or transaction. In short, Decision Server helps businesses manage decisions and detect events.
Decision Center: Decision Center puts the people who drive a business in control of decision management. With little dependence on the information technology (IT) department, users can manage events and decisions according to their knowledge of the organization and best practices. Decision Center helps align the entire organization regarding implementing automated decisions.
The main purpose of ODM is to automate and manage business decisions. Business decisions are everywhere, in every industry in both private and public sectors. Business decisions also change frequently due to market needs, regulations, competition, and customer expectations, among other factors. ODM helps companies like yours automate and manage these frequently occurring, often changing business decisions. 
With ODM, business teams can be directly involved with business decisions, managing and updating the ODM as needed. Business leaders can make the right decisions at the right times while integrating data into their operational decisions. ODM business rules are in the open, and events are easily seen and understood to help business teams and leaders make more informed choices using data to back them up.
Benefits of ODM
IBM ODM offers many benefits to businesses looking to automate their decision-making processes. Here are three of the main benefits of ODM:
Keep business decisions up to date: Business decisions are constantly changing. Keep them up to date with ODM software. ODM lets you capture and govern complex decisions with simple rule artifacts so you can change with the times and adjust to market fluctuations and customer expectations.
Improve the quality of operations: ODM can help you improve the quality of your company's operations to deliver better products and services to your clientele. ODM offers robust performance and scales to your precise critical operational requirements.
Make decisions that are enterprise assets: Business assets are more than physical items — they can also be your business decisions. ODM lets you share decisions across your enterprise, either on-site or on the cloud. This flexibility ensures the decisions you make will benefit your business, becoming assets in their own right.
With these benefits in mind, you can see that the meaning of ODM is better decision-making for your business using robust technology. Below, you can learn more about operational decision management examples to better understand how it works in the real world.
Examples of Industries That Use ODM
ODM is a powerful tool that businesses can use to automate their processes that revolve around making business decisions according to various rules and factors. Yet the exact use of ODM changes from industry to industry. Here are some examples of industries that use ODM and what processes they use it for:
Banking and finance: Many banking and finance business processes can benefit from decision management and automation. Businesses in the banking and finance industry use ODM to manage their policies across banking systems, allowing greater collaboration and transparency. This allows them to adapt to changes in the market, reduce regulatory compliance costs, provide personalized pricing and offers and better prevent fraud from occurring.
Government and education: Educational and government organizations use ODM to employ a better approach to managing policy for security and benefits. As government and educational functions continue to rely more and more on the Internet and the digital landscape, ODM can help these organizations increase their digital efficiency and responsiveness.
Healthcare and life sciences: Healthcare and life sciences businesses exist to help patients, but that can only happen when industry leaders and managers are making the right decisions. With ODM, businesses in this industry can use ODM to make a more connected, smarter healthcare system. This system can help healthcare workers deliver better care to clients and patients while empowering people at all levels of the business to make better decisions, big and small.
Insurance: The insurance industry is constantly facing changes that affect policies and offered packages. Insurance companies also face high levels of competition in the industry, making accurate decision-making and rapid response times critical. Insurance companies can use ODM to improve how they respond to demands in the market as well as competitive threats by improving the transparency of policy and the ease at which policy can be audited.
Manufacturing: Businesses in the manufacturing industry are always seeking ways to improve efficiency and meet market demands. With ODM, manufacturing businesses can better anticipate demand and potential quality issues that could arise and how to respond to them. ODM also helps manufacturing businesses increase their equipment uptime and add flexibility to the otherwise rigid assembly line and manufacturing processes.
Retail: Retail is all about providing customers with the products they're looking for and enticing them to buy new products they may not have realized they wanted or needed. Retail businesses use ODM to increase their operational agility to respond to changes in consumer habits. Since ODM helps retail businesses make better real-time decisions, it also helps them speed up their campaign development process, create more personalized offers for buyers and enhance shoppers' experiences with great flexibility and confidence.
Travel and transportation: The travel and transportation industry is fast-paced, making efficiency and strong decision-making a must. ODM can help businesses in this industry provide personalized offers to increase customer loyalty. ODM also helps these companies manage their compliance with regulations when shipping worldwide. Finally, ODM ensures businesses can detect and prevent the misuse of their transportation services and know better how to respond should an incident occur.
Energy and utilities: For businesses in the energy and utilities industry, ODM provides a better customer experience by streamlining operations. This allows businesses to quickly respond to and capture market opportunities while managing any changes in regulations.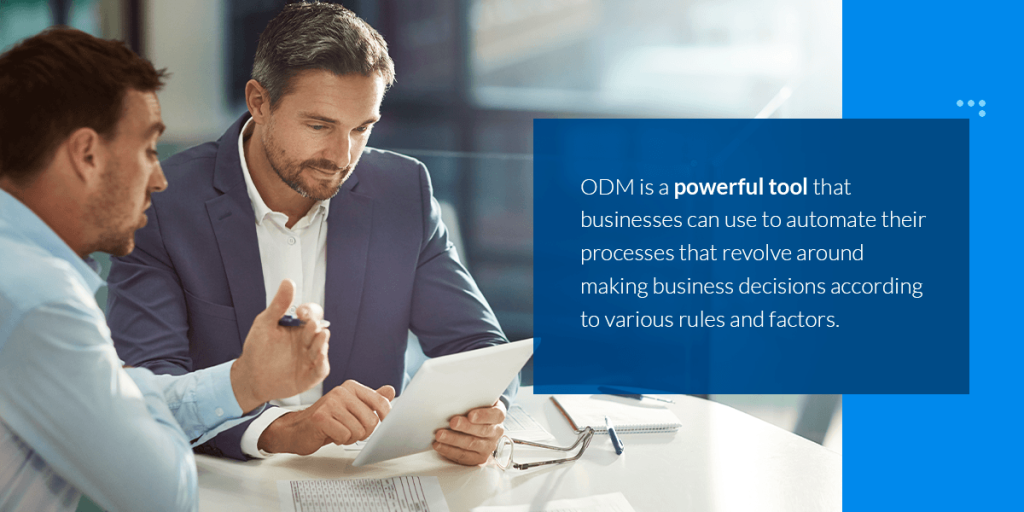 For a specific example of the impressive power and capabilities of ODM, read the Mayflower case study that discusses how a boat powered only by artificial intelligence using ODM was able to safely reach North American shores by making real-time decisions based on ever-changing conditions on the sea.
ODM Tools and Techniques
IBM ODM can fit businesses of all sizes across industries thanks to its powerful toolset and the range of techniques you can achieve with it. Here are some of the actions you can achieve with ODM tools and techniques:
Easy management: It's easy to manage your ODM software thanks to the intuitive interface that lets you create, develop and test business decisions.
Making complex decisions: ODM offers support for making complex decisions, helping business leaders navigate some of their most demanding applications.
Testing and simulation: ODM has testing and simulation functions built in. These capabilities help users reconcile their key performance indicators and usage scenarios with business logic. This contributes to making more informed decisions with grounded outcome expectations.
Flexible options for deployment: IBM ODM makes it easy to implement the software for your business with flexible deployment options.
Manage permissions according to roles: ODM gives you the tools to protect who gets to interact with your business rules and events via permission management. Grant access to all relevant stakeholders so they can participate in updating, authoring, managing and deploying business rules in your ODM software.
Governance processes: Growing businesses can scale their business decisions with the built-in change management and governance capabilities of IBM ODM.
Best Practices for Implementing ODM in an Organization
Any business looking to implement ODM in their organization should follow some best practices to ensure success. One of the first steps you should take is to identify those areas of your business that can benefit from ODM. These could be areas of stress where you know improvements could be made, and additional event insight could help you make those improvements.
After you've identified those areas in your business that could benefit from ODM, your next step is to deploy it. A third party like Salient Process is helpful here, as they specialize in automating digital processes for businesses across industries. They can help you roll out your business's ODM software, taking the burden off your shoulders so you can enjoy the benefits of ODM without the time or effort needed to deploy it across your departments yourself.
Advantages of Using ODM
Businesses can experience several benefits from using ODM, including the following:
Improved efficiency and accuracy in decision-making: Take the guesswork out of your decision-making progress. When you make confident, accurate decisions, your business will run faster and more efficiently. This is true even when scaling up and growing your business. With ODM, you can process claims, automate approvals, reduce noncompliance costs, prevent credit losses and onboard clients and employees faster.
Increased competitiveness and agility: Part of being in business is staying competitive with other organizations in your sector of the market. Rather than making reactionary decisions based on what your competition is doing, you can blaze the trail of innovation and customer satisfaction in your industry with improved decision-making through ODM. And if you find that a quick change is in your best interest, you'll have the data and simulations you need to better understand how the response to events will pan out.
Ability to respond to changing market conditions: Speaking of needing to make changes, ODM increases your business's ability to respond to rapidly changing market conditions. These changes can be a result of customer demands, new regulations or market forecasts. ODM can help you stay compliant and make the right decisions in light of these market changes.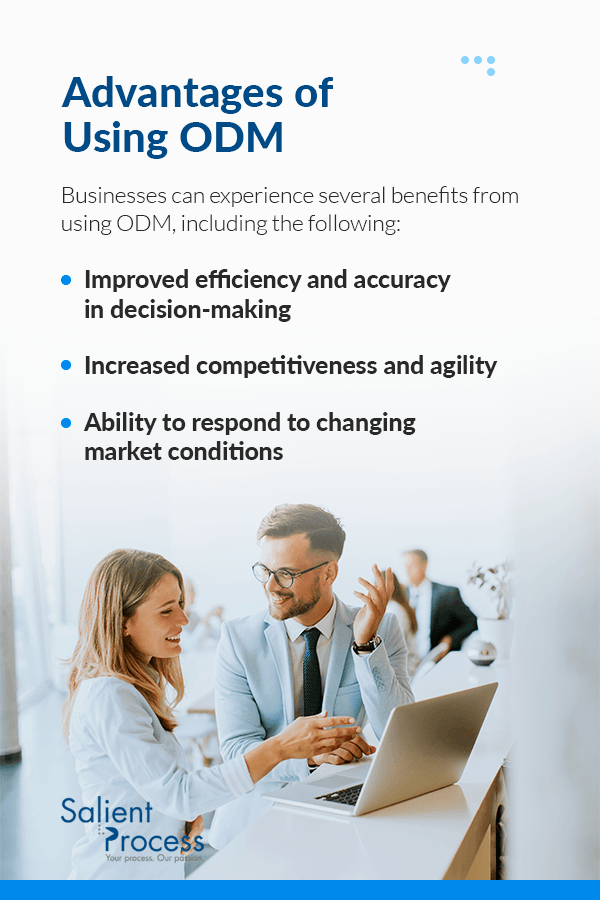 Disadvantages of Using ODM
Despite the many positive aspects of using ODM, there are some potential concerns you need to consider. Here are some of the main disadvantages some businesses might face when using ODM:
Initial costs and setup time: IBM ODM is going to cost both time and money to implement. Salient Process is willing to talk with you about costs and time estimates for deploying ODM for your business to give you a better idea about how the implementation process would affect your budget and routine. Salient Process also specializes in reducing deployment time, helping to reduce the impact of this concern.
Dependence on technology and data quality: To utilize ODM, two things are necessary — modern information technology and quality data. If one of these aspects is lacking, you will be unable to get the most out of your ODM experience or be unable to even use the software at all.
Potential ethical and legal issues with using ODM: Although the chances of these occurrences are slim, there are potential ethical and legal issues with using ODM. Input data drives how artificial intelligence behaves. And since humans are prone to biases — even unknown biases — it's possible to establish business rules that are biased toward or against certain factors, affecting the events the ODM software predicts. It's important to use high-quality data that is as unbiased as possible when using ODM to avoid unintended discrimination and legal discrepancies.
Learn More About ODM With Salient Process
ODM provides businesses with many benefits including increased efficiency, better market flexibility and more confident business decisions. But deploying it for your business can be a challenge and costs both time and money. Salient Process is ready to answer any questions you might still have about Operational Decision Management and how it can help your business. We also specialize in helping businesses deploy IBM ODM to achieve the greatest levels of success.
Contact us today to take the next step.