What's New in Automation Compass? July 2023
Published By : Cydney McCollum
August 15, 2023
Hello, esteemed Automation Compass users!
We are thrilled to introduce our newest release, brimming with fresh features, enhancements, bug fixes, and a sneak peek into our upcoming developments. Just as always, our objective remains to equip your organizations with groundbreaking tools that elevate your business architecture, refine process improvement, and streamline opportunity management procedures. Let's delve into the latest additions:
Learn more about Automation Compass.
🚀What's New?
1. Capability Table
Experience an entirely new visualization of your capability map! With our innovative capability table, you can now access comprehensive information about your capabilities, thoughtfully organized into columns. Gain valuable insights into hierarchical relationships and associated processes. But this is just the starting point – we're actively developing this into a dynamic reporting table that seamlessly supports filtering and sorting.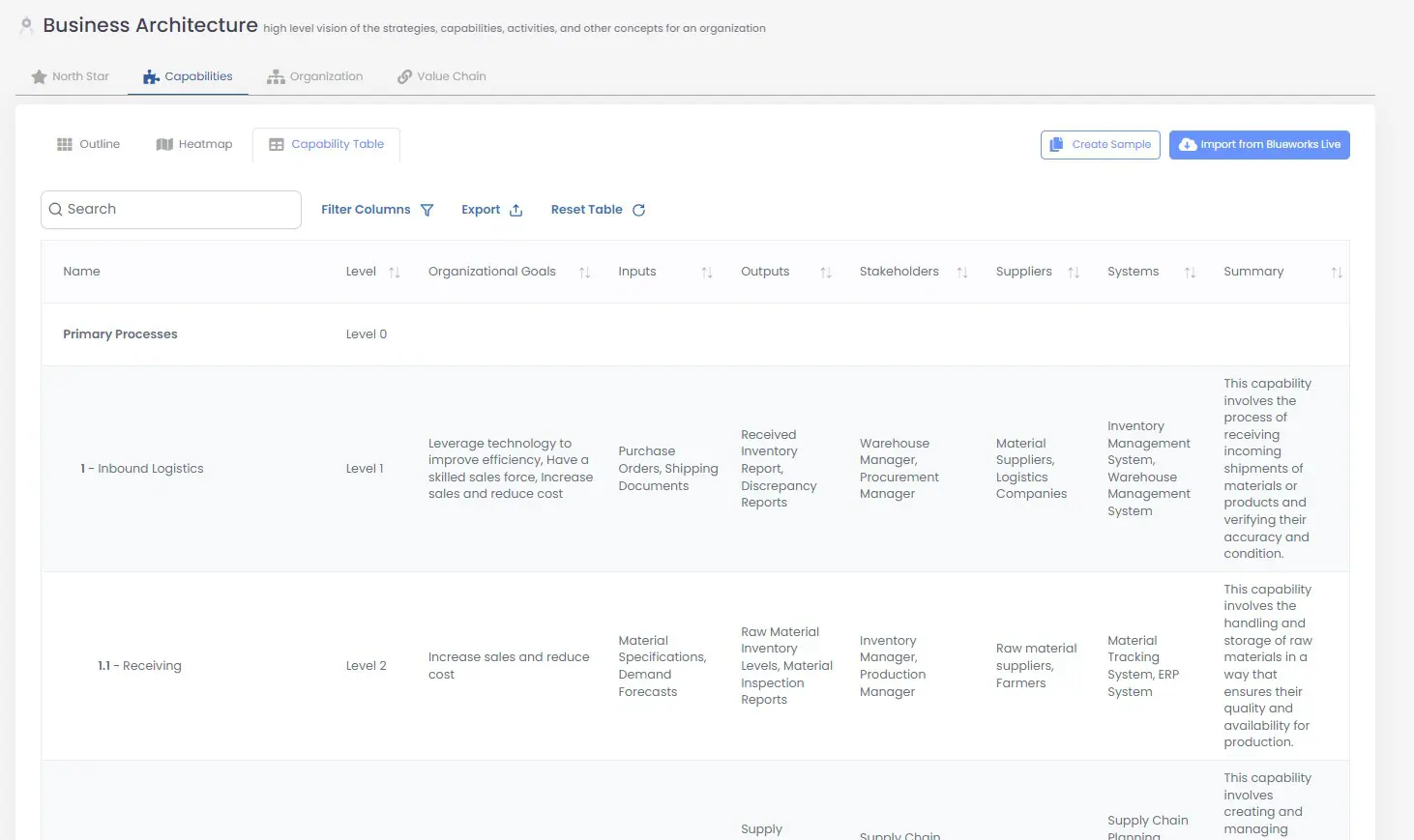 2. Bulk Process Import from Excel
Streamline the process of importing your processes with unparalleled ease. Download our Excel template to effortlessly import an extensive list of processes. Now, you have the ability to import processes in bulk, ensuring that all pertinent details are seamlessly integrated.
3. Process Stage Tracking
Stay well-informed about the present stage of your processes. Keep track of their current phases – whether it's discovery, mapping, analysis, improvement, or monitoring. Effectively manage multiple processes and maintain impeccable organization throughout their entire lifecycle.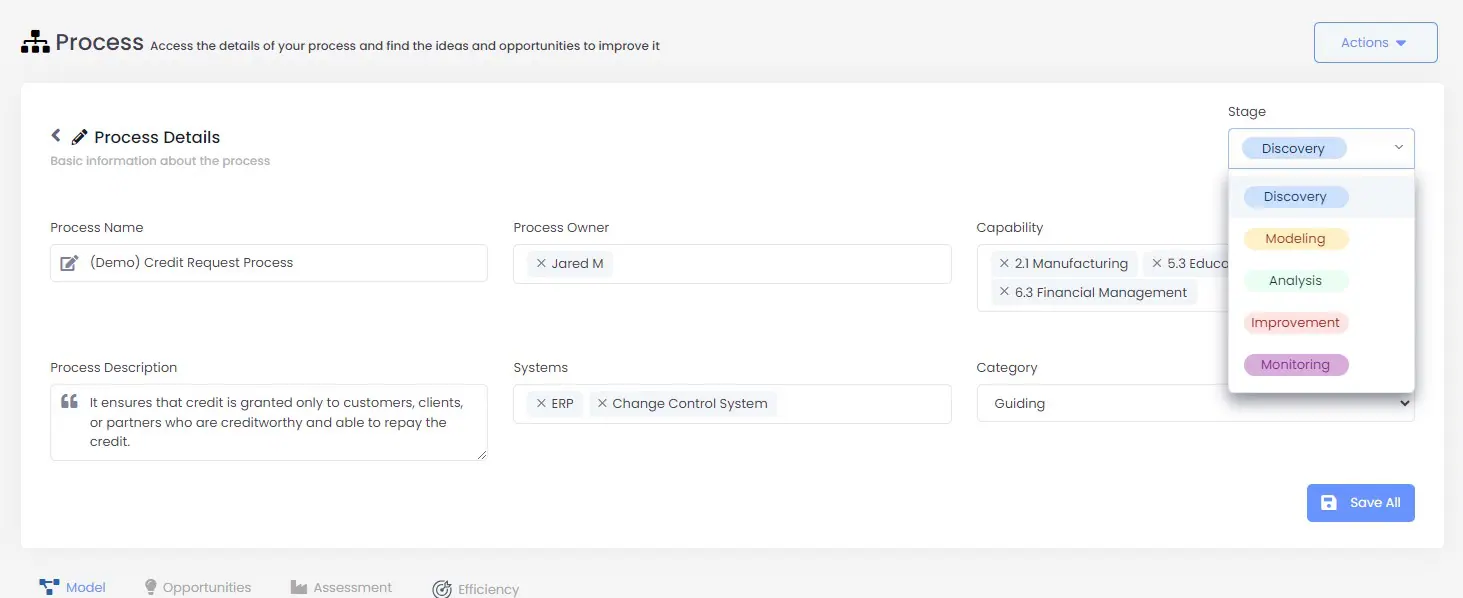 4. Business Hours in Simulation
Elevate the precision of your task scheduling through the integration of business hours. Calculate task due times within working hours, accurately consider elapsed time, and proficiently manage participant schedules. Tailor business hours and specific schedules for your resources using the advanced settings.
⭐Improvements
Improved Opportunity Monitoring: Enhance your opportunity monitoring experience to a greater degree. Customize the years under observation and attain a comprehensive understanding of benefit deviations, effectively comparing planned versus actual outcomes. Maintain a proactive stance in tracking your benefit realization journey.
Widget Filters for Planned vs Actual Benefit: We're placing more control in your hands. Refine the opportunities showcased in the Planned vs Actual Benefit widget by utilizing filters based on pipelines or capabilities. Tailor your viewing experience to align with your personal preferences.
Email Notifications for Account Expiry: Stay well-informed about your account's status. Receive timely email notifications from our Automation Compass team as your account's expiration date draws near. Guarantee uninterrupted access by promptly renewing your account.
Effortless Process Creation: Starting from square one? Now, you can directly add an empty process. Prioritize modeling and effortlessly establish links to the process model once it's ready. Enjoy both flexibility and simplicity, all in a single step.
🔧Bug Fixes
Video Tutorial Issues Resolved: We've successfully tackled those troublesome bugs in our video tutorials, ensuring they now play correctly for your optimal learning experience.
Seamless Process Name and Description Editing: Bid farewell to any quirks when modifying process names and descriptions linked to opportunities. Edit these attributes effortlessly directly from the process details page, without encountering any glitches.
🔜Coming Soon
Update Imported Capability Maps: Maintain the currency of your capability map! With our forthcoming feature, you'll be able to refresh imported maps from BWL. All the information will synchronize seamlessly, safeguarding your processes, opportunities, and supplementary details.
Automated Heatmap Utilizing Process Density: Stay well-informed about your process landscape. An interactive heatmap, driven by process density, will assist you in pinpointing areas that require focus, guaranteeing a comprehensive approach to optimizing your business.
Request a Free Trial With Automation Compass Today
We appreciate your involvement in the Automation Compass journey. Our dedication lies in consistently enriching your experience and delivering value to your organization. Stay tuned for these thrilling updates as we jointly navigate the path to success!
If you're interested in learning more, you can request a free trial or a demo from an expert advisor. If you're eager to get started, you can book a meeting here. Don't miss out on this opportunity, inquire for more information today.
RELATED CONTENT
---
More on Hyperautomation
Scaling Beyond RPA to Hyperautomation