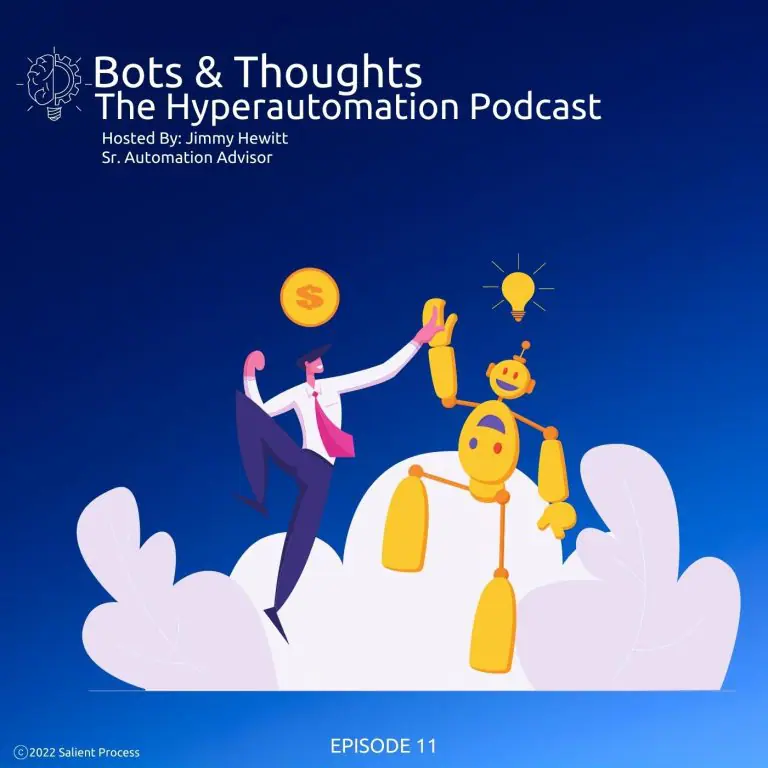 Turn $20k into $250k Every Year using IBM RPA with Tim Goff 
This episode of Bots & Thoughts dives into how IBM #RPA has helped automate the middle/back office work for FedEx Ground Linehaul Contractors. Special Guest Tim Goff, CEO/Founder of GForce Software, and our host, Jimmy A. Hewitt, discuss how automation maximizes performance, quality of life, profitability, and more.
Watch Episode 11 interview now!
Follow along with the episode now!
Guest Background: Tim Goff, CEO and Founder at GForce Software, Inc.
GForce Software
 
Makers of mygroundforce: https://mygroundforce.com/

mygroundforce: Automation for Linehaul Contractors

Automates virtually every middle and back-office process or task associated with managing a FedEx linehaul contractor business

Powered by IBM RPA
Tim Goff
"I went from flying planes to running high tech networks to running a trucking company"
Grew up in West Tennessee and always wanted to be a Navy pilot
Went to the Naval Academy and then flew airplanes for the Navy for 9 years
After Tim got out of the Navy, he took a job as one of the early fiber optic engineers working for Corning
Spent 25 years in high tech communications
Moved from the passive network side to the active network side and held several different roles in hot, very high-tech equipment laser transmission systems
Ran a global division and a Fortune 500 company installing networks around the world
Was a VP Quality

Quality certified manager
Understood the implementation of world class business processes throughout the business

Was a COO of a startup company that built the fastest network in the world for high frequency traders between Chicago and New York
After the startup was sold, Goff bought into the FedEx ground linehaul business

FedEx does not own any trucks
Small businesses do all the transportation
All trucks are owned by contractors

Now has two FedEx Ground linehaul trucking companies

Run 50 trucks across three states in the southeast

All three distinct chapters of Tim's life pull on the same skillset

Procedural
Good, efficient, quality-compliant processes

Has done automation projects in the past
Hyperautomation at GForce Software:
Challenges:

Maximize the value of the people that we have, but have as few people as we need
Lean on technology to help advance the company strategic goals, particularly financially
Tim asked other contractors what tools they use to run their businesses and they didn't have any
FedEx did not instruct Tim how to be a contractor
Required to be a compliant operation with the fortune 50 company
The more you grow, the more people you need to stay on top of all the responsibilities

Human involvement:

If the human is not there to work, key processes in the company come to a halt

Costs:

Cannot grow your business and improve profitability because the cost curve is stuck directly to the growth
To grow and scale your business, you have to flatten the cost curve
Couldn't flatten he cost curve in the FedEx ground linehaul business with the tools in place when Tim began

RPA Solution:

Reached out to a friend who had started a software company and was writing some of the best RPA code in the world for automation solutions
Architected the first version of the system and then built a prototype using basic technology and the RPA robot

Demoed it in February 2020
Put together a business plan

Business plan: automate everything inside a FedEx Ground company

There would not be a need for any spreadsheets, admins, etc. to run the business
Would need an office manager inside your company to stay on top of all the automation
The automation would feed the robot and the robot would do the work

Use Cases: 
Business Management: Advice from Tim Goff
Any business that's having repeatable positive performance has some key performance indicators that they pay attention to
TL 9000, ISO 9000, Six Sigma, and other world class processes yield metrics will help you understand what's going on in the business and what levers you need to pull to get the numbers going in the right direction, which is a health indicator of the business
 All the health indicators are supposed to help you improve the profitability in the business.
If you're not measuring what's going on in your business, you cannot manage it
When you encounter a problem in the business, you immediately need to look at the data and then figure out how you can identify key performance indicators from that data to keep your company from making that mistake again.
Before you can measure data, you have to get command of that data by architecting systems that get command of the data
mygroundforce Transformation:
Overview:
Future of RPA seems unlimited on what you could potentially accomplish
RPA Robots:

Tim Goff Advice:

Understand what people do

Ask yourself:

"What are we sticking minutes to?"

"Can I find a way to stick fewer minutes or no minutes to that particular task?"

All those extra minutes are costing you money when you could be growing revenue

It's not to quit doing the work, but to do the work more efficiently and repurpose that headcount into doing things that are more valuable

You might be surprised on how much time you're spending doing things that really are not furthering the strategic purpose of your organization.

Don't be afraid of the technology:

There are organizations, like Salient Process, that know what they are doing and can integrate the capabilities into your company with you

Technology is simple to use and will give you huge returns

You are not just automating minutes and repurposing employees, you're also maximizing the value of your time!
Watch Episode 11 Interview with tim goff Now
are there more episodes?
YES! Bots & Thoughts is officially on all podcast streaming platforms. Check it out now!
https://www.salientprocess.fm/
Have a topic idea? Let us know!
We would love to hear from you. This podcast is for you, and if you have something that you want to hear, we would love to know. This form is also a place for you to ask questions or get in touch with our Salient Process team. 
Submit a request for a podcast topic here❗
stay Connected!
Make sure to subscribe (with notifications), like, comment and rate our show!
Subscribe to our Podcast
 Subscribe to our Spotify
Subscribe to Google Podcast
Subscribe to our Apple Podcast
Sign up for our newsletter so you won't miss a thing
Talk with your Host, Jimmy Hewitt
Connect with your Host, Jimmy Hewitt 
---