Salient's Podcast is coming soon!
Bots & Thoughts: The Hyperautomation Podcast
Bots & Thoughts: The Hyperautomation Podcast, created by Salient Process, is a podcast about all things digital automation. If you are a Director of Intelligent Automation, work within a Process Improvement team, or are a department leader looking to make life easier for you and your team members, this podcast is for you! In addition to the Host's expert advisory editorials, you will hear from automation professionals and business leaders as they dissect their automation success stories, use cases, and lessons learned along the way. Every other week Jimmy Hewitt, Salient's Sr. Automation Advisor, will be hosting discussions about hyperautomation, process improvement, productivity, efficiency, and more.
Listen to our pilot episode now!
Where are the other episodes?
Great question! This May, Salient Process will be kicking off season 1 of Bots & Thoughts: The Hyperautomation Podcast. We will be launching not 1… not 2… but 3 episodes for you to dive into. We will be covering the basics of Hyperautomation, and we will be welcoming our very first special guest on the show. We are so excited, and we can't wait to share these episodes with you! Stay tuned as we will release the exact date when the time is closer.
What will the episodes be about?
Another great question! The start of our series will be covering the basics of hyperautomation, what it is today, and how it originally came to be! We want to make sure we define, categorize, and dissect this "catch-all" term for our audience before we jump into the show. We will be exploring in-depth topics like Capability and Process Mapping Standards from the APQC team and their Standard Process Frameworks, proper process mapping via BPMN2.0 notation, and more oddly specific topics within the world of Hyperautomation.
Will there be guests on the show?
Absolutely! Our podcast will have 2 themes: solo and guest episodes. The solo episodes will be a short series of episodes (2-3 episodes in series) that will be about 10-15 minutes produced by our host Jimmy Hewitt, Salient's Sr. Automation Advisor. At the end of each series, we will welcome a special guest onto the show to talk about their own automation journey and experiences. We will define case studies, discuss the ROI, how many manual hours were saved due to their automation implementation, etc. We really look forward to these episodes and hope you are too!
How often will we be releasing episodes?
Bi-weekly! Our goal is to release new content every other week. As of right now, we do not have a set day of the week that we will launch our episodes on, but we will let you all know when we are closer to May.
Upcoming episodes: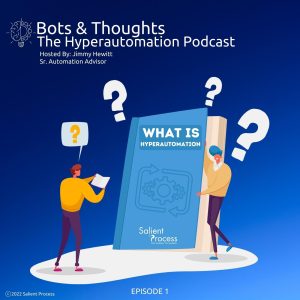 On this episode of Bots and Thoughts, your host Jimmy Hewitt, Sr. Automation Advisor, will be defining exactly what hyperautomation is. He will be introducing the 5 pillars of hyperautomation and what each particular automation capability looks like in today's world. These automation capabilities are RPA (Robotic Process Automation), BAW (Business Automation Workflow), ODM (Operational Decision Management), ECM (Enterprise Content Management), and Capture Technology.
We just identified the 5 automation capabilities and defined what hyperautomation means. Now that we understand what hyperautomation looks like in 2022, let's travel back in time to understand how these 5 different automation capabilities came to life. Stick around at the end… there might be a bonus section for you! 
 Special Guest Episode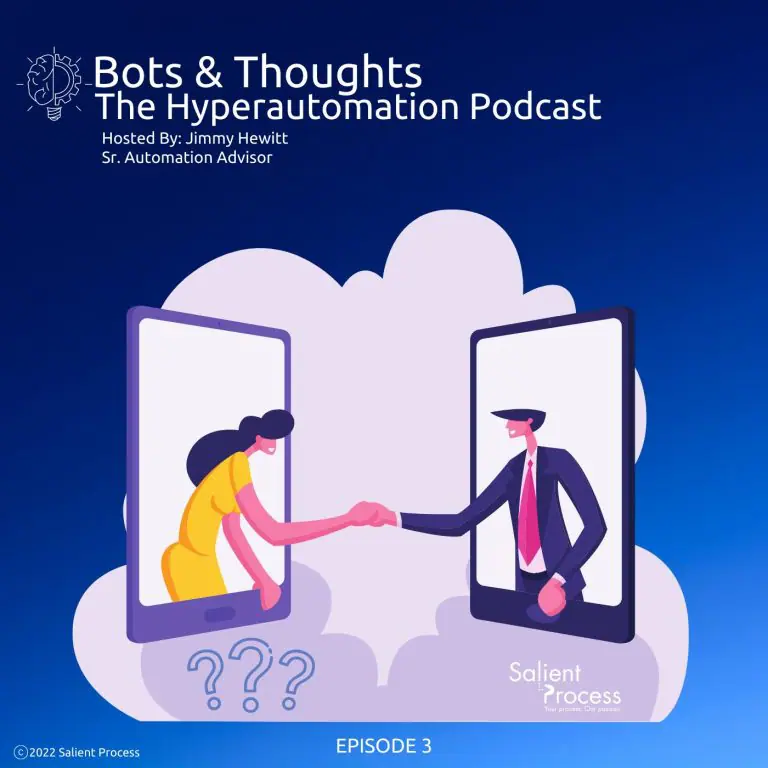 We cant give all of our secrets away! Stay connected with us on our socials and subscribe to our newsletter to find out who our special guest will be!
 We are so excited about this episode and hope you are too!
---
are there more episodes?
YES! Bots & Thoughts is officially on all podcast streaming platforms. Check it out now!
https://www.salientprocess.fm/
Have a topic idea? Let us know!
We would love to hear from you. This podcast is for you, and if you have something that you want to hear, we would love to know. This form is also a place for you to ask questions or get in touch with our Salient Process team.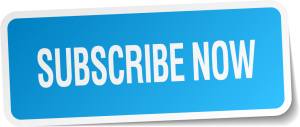 👉Subscribe to Bots & Thoughts: The Hyperautomation Podcast Here
👉Subscribe to our Spotify Here
👉Subscribe to our Apple Podcast Here
👉Subscribe to our Google Podcast Here
⏩Subscribe to Salient's Monthly Newsletter Here 
🎤Be our next guest! Sign up Here
📲Contact our Podcast Host Here 

  ⏩LinkedIn
👉 Follow Bots & Thoughts on Here
👉 Follow Salient Process Here
👉 Follow our Podcast Host Here
RELATED CONTENT