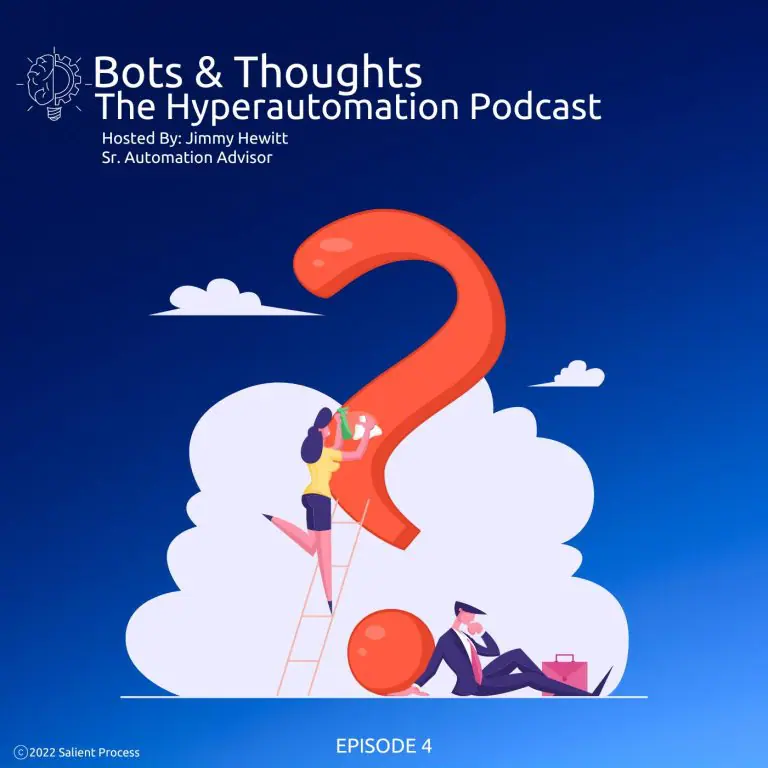 What Do I Automate Next?
After listening to episode three, "Automate Financial Reporting with IBM RPA: Salient Process x Primanti Brothers", you might have found yourself wondering "how can I score my first quick win?" or even have the realization that there is more work to do in achieving your corporate goals. You may have thought to yourself… "What do I automate next?"
In this episode of Bots & Thoughts, host, Jimmy Hewitt, will guide you through the decision process of what to automate next. Hewitt will first establish two guiding principles for our listeners to follow throughout the decision-making process for automation. Then, you will hear about two considerations to keep in mind as well when deciding on your next automation venture. The guiding principles and considerations in this episode will touch on a range of automation maturities, from your first automation to your second automation and beyond, making them applicable to all listeners regardless of automation experience.
Listen to episode 3 here!
Read about our episode 3 now!
Follow along with the episode now!
Guiding Principles
The efforts of early adopters have given the hyperautomation community two principles:
1. Find the balance between innovation/experimentation and governance: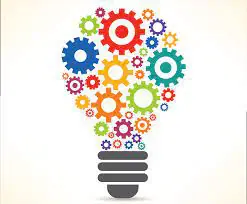 Too much red tape can stifle innovation projects
A lack of governance can lead a  hyperautomation team awry
How: find and build a quick win quickly
If done with just enough governance at the early adopter stage, focusing on and building a quick qin can lead to the "can we automate this, can we automate that?" effect
A quick win leads to inbound requests for more of what you've done, which leads to the establishment of evaluation/prioritization criteria and better governance
Importance: Not focusing on a quick win or biting off more than we can chew will delay, stall, and even kill a hyperautomation journey before it sees any success
Example: attempting a multicomponent hyperautomation too soon like combining RPA with workflow and capture. This is the endgame of hyperautomation, but not a quick win
Goal: Achieve momentum and a quick win
2. Use evaluation/prioritization criteria: Two buckets
A. Evaluating your first automation: Building your first bot should be done in the spirit of innovation and experimentation
"Is this for us?" Or "Can we, our customers, employees, and bottom-line benefit from hyperautomation?"
Is this work item or task relatively repeatable and/or route?

Example: moving information between applications or spreadsheets

Is this work item or task being done manually?

Example: copy and paste or manually keying in information

Is it so boring that it is painful?
Does this task happen a lot (at random times, on-demand, on a schedule, etc.)?
Is this team experiencing pressure, increased workload, or longer hours than usual?
What seems like a solid work item, task, or report to automate?
 Quick win checklist: Look for all or some of the following… Reference: Salients Last Quick Win
Had a low financial barrier to entry. Paid for itself entirely in less than 3 months. Is generating an 8x return year over year
B. Evaluating your second automation and beyond:
Once you have achieved your quick win, more governance comes into play

Higher-level evaluation criteria: Does this use case align (1-10) with your North Star?
North Star: your company's "big why".  Improving customer experience, improving employee experience, compliance, cost and time repurposing, ROI, etc.. View North Star Methodology
Goal: Ensure you are prioritizing your next automation with your North Star in mind
Considerations
There are two considerations used on top of the principles:
1. Consider your hyperautomation practice's level of maturity:
Ask yourself: What automation have we already built?
If none: Call on guiding principle number one and start with a quick win
Example: one RPA bot, one workflow app, one capture infusion, etc.
If one or more: Once your hyperautomation practice matures, you can combine capabilities that complement each other into one process, as long as it is done in a thoughtful manner with proper governance
2. Consider your hyperautomation practice's level of maturity:
The more advanced your code becomes, the more tools you should have access to

Ask yourself: Do we have a platform that gives us everything from process mapping and mining to RPA and workflow, decision management, and capture, or are we just working with an RPA platform?

Consider what tools you have access to based on your level of maturity and evaluate accordingly

Just getting started:

Intermediate phase:

Consider adding process mining to investigate a broader breadth of process improvement opportunities and perhaps even try out a workflow or BPM platform

Infusing workflow into your business can unlock an entire order of magnitude of value (if done properly)

End phase:

 Utilizing process modeling, mining, RPA, and workflow in concert

Advanced practice:
Summary
Guiding principles:
Find the balance between innovation/experimentation and governance.
Use evaluation or prioritization criteria (your North Star).
Considerations:
Your hyperautomation practice's level of maturity

Which hyperautomation tools and combinations of the tools are appropriate based on this level of maturity.
How to manage everything at once:
Salient Process is building the Automation Compass to guide you along your automation journey and bring all the guiding principles and considerations into one place
Start your 30-day Free Trial Here!
Let us know what you think so we can make improvements as we build the tool!
are there more episodes?
YES! Bots & Thoughts is officially on all podcast streaming platforms. Check it out now!
https://www.salientprocess.fm/
Have a topic idea? Let us know!
We would love to hear from you. This podcast is for you, and if you have something that you want to hear, we would love to know. This form is also a place for you to ask questions or get in touch with our Salient Process team.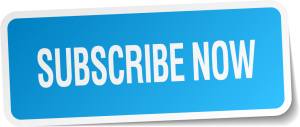 👉Subscribe to Bots & Thoughts: The Hyperautomation Podcast Here
👉Subscribe to our Spotify Here
👉Subscribe to our Apple Podcast Here
👉Subscribe to our Google Podcast Here
⏩Subscribe to Salient's Monthly Newsletter Here 
🎤Be our next guest! Sign up Here
📲Contact our Podcast Host Here 

  ⏩LinkedIn
👉 Follow Bots & Thoughts on Here
👉 Follow Salient Process Here
👉 Follow our Podcast Host Here
RELATED CONTENT