We're thrilled to kick off Season Two with a bang, and now we revisit some of the most exciting moments from Season One Bots & Thoughts: The Hyperautomation Podcast!
Buckle up and get ready to relive the magic with us as we take you through the highlights of Episodes 1 through 10. From fascinating interviews with industry experts to insightful discussions on the latest trends and developments, these snippets will surely bring up sweet memories!
Follow along with the episode now!
This article — and the accompanying episode — takes a closer look at hyperautomation by:
Providing several definitions of the term from leading technology companies.
Breaking down each definition and highlighting some key similarities, differences and overlapping capabilities of hyperautomation and business intelligence.
Discussing the most common tools and technologies within the world of hyperautomation.
Exploring the most valuable conversations you should have about hyperautomation, which can enable you to identify the "why" and "how" of hyperautomation for company success.
"Hyperautomation is a business-driven, disciplined approach that organizations use to rapidly identify, vet and automate as many business and IT processes as possible. Hyperautomation involves the orchestrated use of multiple technologies, tools or platforms, including: artificial intelligence (AI), machine learning, event-driven software architecture, robotic process automation (RPA), business process management (BPM) and intelligent business process management suites (iBPMS), integration platform as a service (iPaaS), low-code/no-code tools, packaged software, and other types of decision, process and task automation tools" – Gartner 2019
Watch Episode One Now
Now that we have defined and dissected what hyperautomation is, let's take a step back in time to as early as 1920 to understand how all seven hyperautomation capabilities came to be.
During this episode,o. you will learn about the history of the seven distinct hyperautomation capabilities. Specifically, you will hear how Process Mapping, Process Mining, Task Automation, Capture, Workflow, Content, and Decision Automation capabilities originated. 
1991
Wall Street: to make the most informed trades and financial models, the late 80s/early 90s bankers would subscribe to a financial data company (ex: Thomson Reuters) that would serve up finance data on virtually anything that could be bought and sold.
Consuming this financial data from the banker's perspective was done on something similar to a web browser
Bankers would look over endless data tables, find the data they need, and manually key this data into their financial models to make a trade
Realized they were going to the same place, to get the same data continuously so they made lines of code to consolidate all the data into one table and screen scrape/data scraping on the UI level of the finance page
Saved bankers a significant amount of time every morning on data prep
 1993:
Excel version 5: included Visual Basic for Applications (VBA)

VBA: automated a series of repeatable tasks that happen in Excel based on predetermined triggers

Macro based technology went beyond screen scraping
The intent of this technology has stayed the same for over 30 years
Watch Episode Two Now
 Dating back to 1933, the iconic "Almost Famous" restaurant chain Primanti Brothers was created in Pittsburgh, Pennsylvania. For the last 89 years, the company has grown exponentially as they now have 38 locations across the US, plus 1 in each stadium in Pittsburgh. The beloved restaurant has been no stranger to the evolving times as they realized their back-of-house operations needed some efficiency improvements and they needed it fast. In this episode, you will hear from Caitlin Stritmatter, Director of Financial Planning & Analysis at Primanti Bros about their experience improving their manual reporting processes with IBM RPA.
Download the Primanti Brothers Case Study here!
primanti brothers HYPERAUTOMATION JOURNEY
"You only have so much time every day before you start running the restaurant. You can get so bogged down in the process of copying, pasting, filling out, and double-checking a spreadsheet, when you should be focused on actually looking at the numbers and what they're saying,… So, we wanted to take the busy work out of the process to free up time for thought and planning." –

Caitlin Stritmatter

Director of Financial Planning & Analysis, Primanti Brothers
BEFORE RPA BOT:
Every morning, 365 days a year, these Regional Managers go into each of the 5 restaurants to look at the sales of the previous day using the online tool, point of sales solution. 
Their morning process without RPA:
Step 1. Run a sales report for each location
Step 2. Key it into a spreadsheet
Step 3. Run labor report for each location
Step 4. Key it into a spreadsheet
Step 5-10. Using the information, get the week trends, what's upcoming for the day, forecast sales for day/week/month, get everything they know about the restaurant, forecast labor, get a snapshot, etc.
Step 11. Inform restaurant managers prior to the opening of possible adjustments to be made for the day
This process took at the very least 45 minutes per person to generate around 40 reports all before 10 AM (including weekends and holidays) so they could make possible adjustments before opening for the day. There are 8 Regional Managers that have on average 5 restaurants. 
AFTER RPA BOT:
Their new morning process with RPA:
The manager is able to login to the SharePoint site, the spreadsheet is already filled out by 7 am, and all of the prior days' data is already there
No longer have to spend time filling in data
Regional managers can jump straight to making decisions on today, tomorrow, etc., and suggestions to each restaurant manager
Relief from employees
Salient Process helped save Primanti Brothers 2,000 hours of manual work with IBM RPA. Jimmy Hewitt, Senior Automation Advisor at Salient Process, says:
"I really like two things about this specific automation technology. First is that because it takes the bot no time at all to do work that took humans 2,000 hours per year to do, it quite literally gives you the gift of time. They say you can't buy time. I say, yes you can! Second is how low the barrier to entry is for this capability."
Watch Episode Three Now
After listening to episode three, "Automate Financial Reporting with IBM RPA: Salient Process x Primanti Brothers", you might have found yourself wondering "how can I score my first quick win?" or even have the realization that there is more work to do in achieving your corporate goals. You may have thought to yourself… "What do I automate next?"
In this episode of Bots & Thoughts, host, Jimmy Hewitt, will guide you through the decision process of what to automate next.
Hewitt will first establish two guiding principles for our listeners to follow throughout the decision-making process for automation.
Then, you will hear about two considerations to keep in mind as well when deciding on your next automation venture.
The guiding principles and considerations in this episode will touch on a range of automation maturities, from your first automation to your second automation and beyond, making them applicable to all listeners regardless of automation experience.
Guiding principles:
Find the balance between innovation/experimentation and governance.
Use evaluation or prioritization criteria (your North Star).
Considerations:
Your hyperautomation practice's level of maturity
Which hyperautomation tools and combinations of the tools are appropriate based on this level of maturity.
 
HOW TO MANAGE EVERYTHING AT ONCE:
Salient Process is building the Automation Compass to guide you along your automation journey and bring all the guiding principles and considerations into one place.
Watch Episode Four Now
Following episode 4, "What do I automate next?" Host Jimmy Hewitt has put together an episode that will help you learn some of the most important standards, notions, and frameworks within the world of hyperautomation.
Our host, Jimmy Hewitt, will walk through the Who, What, and Why of each standard, notation, and framework revealed in this episode. 
A process map is only as good as the information collected during a process mapping workshop or interview. A process map only represents what a person intimately close with the process tells you about it.  Often time the resulting process map is not so much a reflection of the business process itself, but rather a reflection of that person's understanding of the business process.
Not perfect, but best we can do up until process mining came around
Rather than interviewing people who are close to a given business process, modeling their understanding of it, process mining involves the ingestion of your systems log data (including a case ID number, an activity name, and at least one timestamp)
Process mining will create one of many visual representations of this systems log data from your ERP (Enterprise Resource Planning) or CRM (Customer Relationship Management)
One of these visualizations is a BPMN diagram
Mining is different than mapping because of the data source!

Mining: deriving process information from a system

Can pick up on more accurate process details

Mapping: deriving process information from a human

How do you normalize your ERP log data with what a process owner's understanding of that process is?
Reach out to Salient and Jimmy Hewitt where we will show you how to use BPMN to compare a process map with a process mining output
Learn more about Process Mapping vs. Process Mining
Watch Episode Five Now
On this episode of Bots & Thoughts: The Hyperautomation Podcast, our host, Jimmy Hewitt, sits down with guest, Reddy Mallidi,  Former VP of Global Operations at Autodesk Inc., to discuss the transformative effect that hyperautomation can have on a company. During this conversation, Reddy speaks about implementing hyperautomation throughout Autodesk, from his visionary period to implementation and everything in between. Reddy gets into topics such as how to get your team behind hyperautomation the right way, how to overcome apprehension and staff off disappointment, his virtuous cycle of hyperautomation that combines professional development with operational excellence, and so much more. 
HYPERAUTOMATION JOURNEY:
Next steps: Once small wins start to add up and you generate ROI from hyperautomation profits you can…
Invest in more ROI-positive capital machinery
Move from mapping one process to mapping an entire process group or an entire department
Support more complex situations and business cases (versus mundane tasks)
Invest in more advanced automation capabilities
Build Center of Excellence
Invest more in people

Reminder: with hyperautomation, you should be able to support growth in the business without taking on additional assets (i.e., people)

Example: Same operations team able to support 2x the business after automating processes in their process map
Hyperautomation definition:
Reddy: It is an approach,It's not tool specific It's not technology specific. It is business driven and you need to have a disciplined approach that shows business value in terms of ROI, customer experience, employee experience, etc.
Watch Episode Six Now
Following Episode 1: What is hyperautomation?, we wanted to introduce the first Mini-Series: What is Process Discovery? In this series, you will learn about the two capabilities within the world of process discovery: process mapping and process mining. Leveraging one or both of these hyperautomation capabilities will establish the foundation of your hyperautomation journey. You will learn about the what, why and how of both capabilities. Finally, we will share some real-life examples so that you leave this episode informed and ready to kick off your own process discovery journey!
How to Choose Between Process Mapping and Process Mining
Both process mapping and process mining are important features in process discovery. Both can bring many benefits to companies but differ in the discovery process and creation type. While process mining uses data science and algorithms to evaluate data, process mapping absorbs information from employees and business analysts. And process mining requires advanced data mining tools, while you can complete process mapping by hand or with simple software.
Choosing between these options is entirely up to you and current factors like:
Your current position: Your existing placement in the process discovery journey can help you decide between process mapping and mining. For instance, you could consider how much process mapping or mining has already been completed. If you've already accomplished some mapping, think about how thorough it was.
Your process maps' state: Next, consider the current state of your process maps, such as their models. For instance, your process maps might have been modeled in Business Process Modeling Notation (BPMN) format. While process mapping has relatively low requirements to get started, you might need a specific format to begin process mining.
Your log data access: Lastly, consider whether you have access to log data from your systems, like enterprise resource planning (ERP) software or customer relationship management (CRM) software.
At Salient Process, we recommend using both techniques. Start with process mapping and then combine process mining later, because the two complement each other. 
Starting with process mapping is ideal due to its low-entry barriers. You would only need a BPMN-enabled process mapping platform — such as IBM Blueworks Live — to get started. Process mapping organizes workflows in an easily accessible format, making it easier to identify areas for improvement. However, process mapping's major limitation is that it requires a human data source, which relies on a subjective experience. Because of this, you might compromise some accuracy.
By combining process mining with process mapping, you can cut through the subjectivity of a human experience and derive data from the systems being used to carry out the process under discovery. The primary drawback of process mining is that it cannot capture any task carried out outside of the system's log data, like phone calls or text messages. However, process mapping lets you add these human behaviors to your overall process map. 
Using the two capabilities together allows the strengths of each to shine and resolves the other's limitations. You can leverage both capabilities, regardless of which you start with, to achieve the optimal process discovery posture. Remember to complete everything in BPMN notation.
During this episode, you'll learn how Salient supported the process improvement journey, which has realized over $16 million in annualized cost savings for Clemens Food Group. Join Host Jimmy A. Hewitt and Senior Automation Advisor Geoffrey Hamm as they sit down with early adopter and VP of IT at Clemens Food Group, Stuart Farber, to hear his thoughts on their Hyperautomation journey and accomplishments so far. Listen to how they've saved over $16 million in cost thanks to hyperautomation.
CLEMENS FOOD GROUP + SALIENT PROCESS:
Initial concept was to build a Center of Excellence with a full team, create a large scope project, and have dedicated resources for RPA, but kept starting too big, failing, and then COVID hit
Accrual Project: Giving credit rules accruals
RPA can make most decisions, but there is sometimes a piece of the process that does require human intervention
RPA is excellent at automating tasks and workflow is helpful for keeping track of the existing tasks that may need human involvement without impeding on your RPA capacity
Clemens Scenario: There are two accruals that you could do for one single credit, and somebody in the end may have to make that decision
Use workflow to send that decision out to the sales team and the sale teammate can make the final choice
Only do this when it's needed, but when Clemens does need it then it that has that ability and that's why they chose to include workflow.
Watch Episode Eight Now
Over the course of the last 1-5 years, automation has drastically improved our way of life and work. We sat down with the Director of Product Management – Automation at IBM, Matthew Warta, where you will learn about two capabilities within the world of Hyperautomation, Robotic Process Automation and Business Automation Workflow. You will hear how Workflow has advanced through the years and how organizations are improving their employee and customer experience by implementing RPA and BAW. Companies are increasing productivity, reducing costs, saving money, and more.
NOTALE RPA USE CASE FROM WARTA 
Challenge
Organization was looking at going into a brand-new line of business, something they had never done before (wealth management and annuities), and they needed to provide new products to all the all states within the US 
To do that, they had to bring out about 10,000 independent agents to sell and service these products, who needed to be vetted 
Needed to prove that they had the right training and certifications to be able to do this within the States had to be done this 
Each state had its own regulations 
The projection was that it would take about hiring of 20 people and up to 18 months to do this manually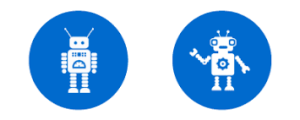 Within three months they able to put bots in place that were able to do the onboarding of all 10,000 people and allow them to go to market 12-15 months sooner 
Several millions of dollars that they were able to make by going to market sooner 
Used Workflow coordination throughout the project. Most bots were used for the project alone and then weren't needed again because the value was already received, and their purpose was served  
Saved some bots for future applicants  
Shift in market
 "We can invest in technology, get the value from it, and then walk away because it's so great" -Warta 
Bots can sometimes just be looked at as digital contractors, where you bring them in for several months to do their job and then their contract expires 
You decommission the bot, and you move on with business
Watch Episode Nine Now
This episode of Bots & Thoughts focuses exclusively on Enterprise Content Management and Intelligent Capture solutions. Our host, Jimmy Hewitt, is joined by a new guest, Jim Picardi, Executive Vice President of Sales and Marketing at enChoice, an award-winning Content and Capture services provider. When it comes to the successful adoption of Content and Capture, look no further than Jim and his team at enChoice. The two discuss the ins and outs of successful Content and Capture adoption and provide their expertise throughout the discussion. Content and Capture are essential elements of the hyperautomation journey, so you don't want to miss this episode!
JIM PACARDI'S FAVORITE USE CASE:
Company Info: Company  specialized in student loan servicing

Revenue: $16 Million
300 employees

Challenge: Inundated with paper and process
Solution: Spent >$1 million on implementing a content management and process management system
Outcome:

Received a strong ROI
Transformed their business
Completely changed their processes to all electronic processes
Gave them all access immediately to files
Allowed them to grow their business without increasing the number of employees in the company

Lesson: irrespective of how big your company is or what your business is, if you have the right leadership at the company and you have the right focus on what the business problem is, then you can transform your business

If there is waste in your organization, there is gain
Technology is very approachable from price point, ease of use, and time to value perspectives for customers of all sizes
Watch Episode 10 Now
Listen to Episode 22 Now
Have a Topic Idea? Let Us Know
If you have a topic idea, contact us today. We want our podcast to answer your questions, and if you have something that you want to hear, we would love to know. In addition, you can ask questions and get in touch with our Salient Process team.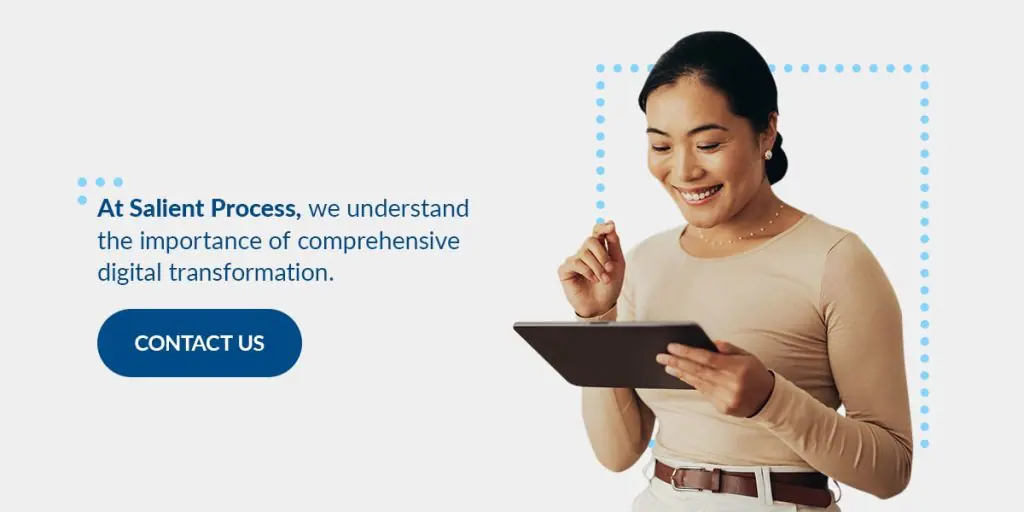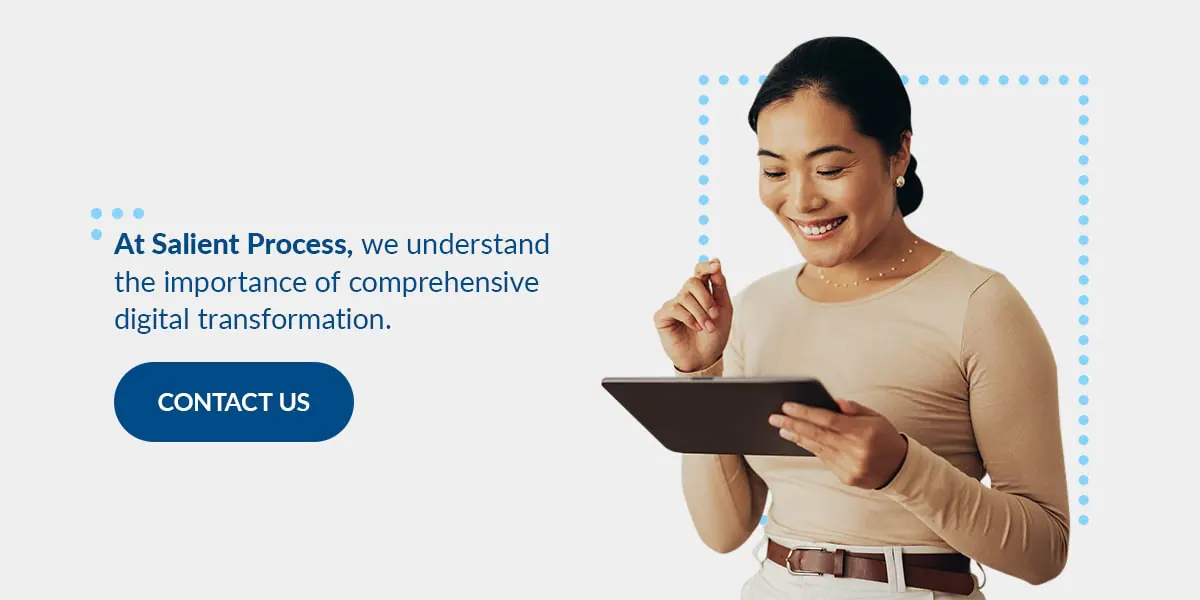 Why Salient
At Salient Process, we understand the importance of comprehensive digital transformation. We work closely with each client and use a North Star methodology to align your procedures with overall business goals. Our expert team works hard to understand your unique needs, making a customized plan for success. With our hyperautomation solutions, you can move closer to your digital transformation goals.
Subscribe now
👉Subscribe to Bots & Thoughts: The Hyperautomation Podcast Here
👉Subscribe to our Spotify Here
👉Subscribe to our Apple Podcast Here
👉Subscribe to our Google Podcast Here
⏩Subscribe to Salient's Monthly Newsletter Here 
🎤Be our next guest! Sign up Here
📲Contact our Podcast Host Here 
Follow Us
  ⏩LinkedIn
👉 Follow Bots & Thoughts on Here
👉 Follow Salient Process Here
👉 Follow our Podcast Host Here
RELATED CONTENT